SI Restoration Warns of Five Ways Water Heaters Can Cause Mold Damage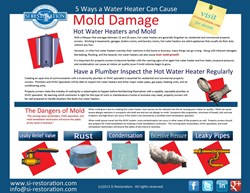 Mount Laurel, NJ (PRWEB) July 19, 2013
When disaster strikes a residential or commercial property, it is more likely than not that property owners find themselves hard pressed for a quality solution to their unforeseen problem. SI Restoration, with over twenty years of experience in mold removal, water damage, fire damage, and biohazard cleanup, have initiated a call to action for home and business owners to prepare for sudden catastrophes well before they happen.
Published on a bi-monthly basis, SI Restoration?s visual guide series is aimed at property owners searching for education and resources on the most costly home and business disasters as well as those caught in a difficult situation needed restoration. The 5 Ways a Water Heater Can Cause Mold Damage is the latest visual mold guide offered to educate property owners on the hidden dangers of an appliance that is usually taken for granted.
Those faced with a leaky or faulty water heater are urged to find a plumber, HVAC specialist, and mold remediation specialist that best suits their specific needs. With a lifespan that averages between 15 and 20 years, hot water heaters are generally forgotten by residential and commercial property owners. Working in basements, garages, boilers rooms, and laundry rooms, hot water heaters are silent appliances that usually do their duty without any fuss.
However, when hot water heaters overstay their welcome in the home or business, many things can go wrong. Along with inherent dangers like leaking, flooding, and fire hazards, hot water heaters can also cause toxic mold growth. This will create the need to hire a reputable mold remediation service provider.
It is important for property owners to become familiar with the warning signs of an again hot water heater and how leaks, excessive pressure, and condensation can cause an indoor air quality issue if mold colonies begin to grow.
Creating an open line of communication with a trustworthy plumber or HVAC specialist is essential for residential and commercial property owners. Plumbers and HVAC Specialists will be able to inspect hot water heaters and other major water pipes, gas pipes, heating units, and air conditioning units.
When mold grows due to a leaking hot water heater, toxic spores can be released into the air causing poor indoor air quality. Mold can cause severe allergic reactions in occupants who both are and are not allergic to mold. Symptoms like congestion, shortness of breath, skin and eye irritation, and high fevers can occur if the mold is not removed by a certified mold remediation specialist.
When mold spores travel into the HVAC system, cross-contamination can occur in other areas of the property as well. Property owners should also prepare for mold remediation by locating a mold remediation contractor. The winning team of plumbers, HVAC specialists, and mold remediation technicians will ensure the safety of any home or business.
Related Best Gas Heater For Garage Press Releases
---
Categorised as: Gas Garage Heaters
---